These Pirates Aargh Not Blowing Off Steam
Betsy Bailey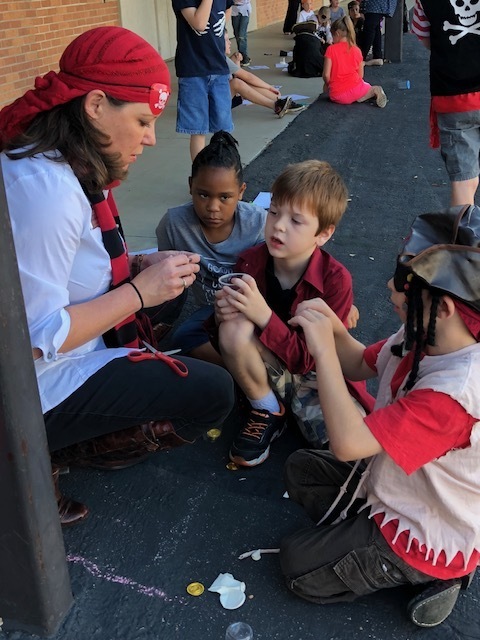 By Kristi Smith, McRae Math Coach
Second graders at McRae Elementary in Searcy participated in a pirate themed STEAM event. STEAM is an acronym that stands for science, technology, engineering, arts and mathematics.
Searcy school district administration and staff members, Harding University staff and engineering students, the Wilbur D. Mills Education Service Cooperative, parents and students made this experience worthwhile.
Students immersed their minds into six pirate challenges. Art teacher Tracey Rogers asked second graders to create the tallest free standing pirate using toilet paper tubes and a variety of craft materials donated by parents in art class.
Ben Carrigan (Harding), Amber Bass (WDMESC) and Christine Harrell (SPSD) challenged students to create a rowboat using milk cartons recycled from school lunches along with other materials. Students then tested their rowboats in water-filled rain gutters measuring how far their boats traveled on only two puffs of air.
Patti Kitts (SPSD) and literacy coach Bethany Philpot engaged students with coding on code.org incorporating navigational moves.
McRae interventionists Kelly Dell and Emily Rodgers asked students to construct treasure chests using materials they chose from a table. Students placed a picture of "treasure" inside their chests, held them underwater and tested their designs to see if they were indeed waterproof.
Tim Brister (Harding University), Megan Hunt (Deener Interventionist) and school counselor Logan Mason facilitated the challenge whereby students were asked to make foil "pirate ships" that held the most weight. Students added washers to their ships to see how much they could hold before sinking. Students learned that distribution of weight was a factor when testing their ships.
Finally, one can't have a pirate themed event without cannons! Under the supervision of WDMESC staff members Pam Allen and Brook Singletary students designed cannons using balloons and plastic cups to launch gold coins across the blacktop. Students measured how far their coins traveled. Because many students launched their coins such great distances, students stepped off how far their coins traveled. A follow-up lesson will take place in math lab next week about the accuracy of the distance and nonstandard forms of measurement versus standard forms of measurement.
For most challenges, students tested their original design and then went back to the drawing board to improve their designs based on what they observed, something scientists and engineers do all the time. Then, students reflected on each challenge in their engineering log books.
STEAM events not only foster cross-curricular learning ,but they require deep thought, working as a team and perseverance to succeed. Sometimes life's greatest successes stem from our failures. All in all, everyone had a shiver me timbers time!