Celebrate Freedom Week
Betsy Bailey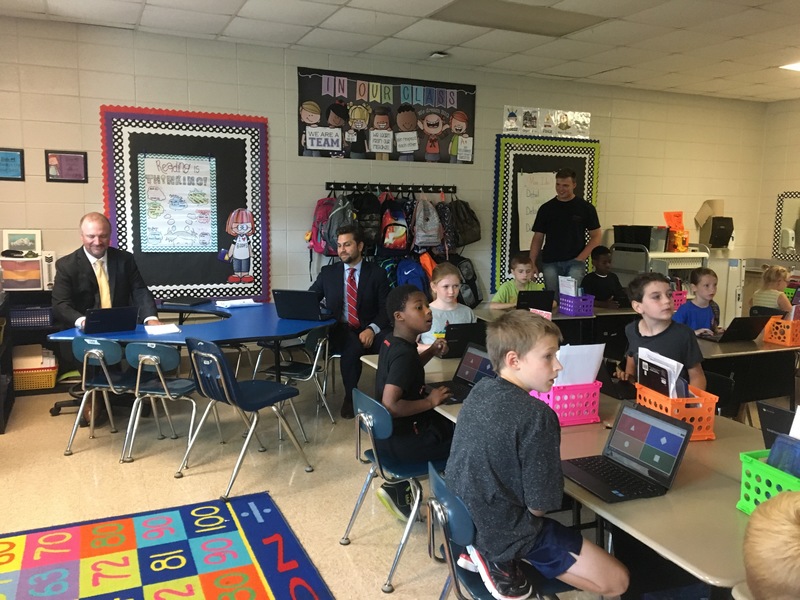 Schools across Searcy School District celebrated Freedom Week in conjunction with "Bring Your Legislature to School" month during the last week of September. Pursuant to Act 682 of 2003, Arkansas public schools celebrate this week to educate students about the sacrifices made for freedom in the founding of this country, and the values on which this country was founded.
Various activities were planned throughout the schools. Our local legislators, Senator Jonathan Dismang and Representative Les Eaves participated in coding projects at Sidney Deener, interacted with students at McRae, Westside, and Southwest Middle School, and Representative Michael John Gray visited a McRae first grade classroom.
Social studies classes at Ahlf Junior High School and Searcy High School welcomed guest speakers throughout the week who addressed issues such as voting rights, flag etiquette, legislation, Veteran experiences, and the importance of democracy. Speakers at Searcy High School included representatives from the Arkansas Secretary of State's office Bethany Nick, historian Elizabeth Hill, Representative Les Eaves, Representative Michael John Gray, Judge Michael Lincoln, and White County DAR representative Rebecca Van Patten Smith. Ahlf Junior High School invited guest speakers Dismang and Eaves, as well as Officer Terri Lee from the Searcy Police Department and Searcy attorney Michael Bryant to speak to their classes.
We at Searcy Public Schools are very appreciative of the time local leaders and volunteers spent with our students during Freedom Week in order to assist in providing a better understanding of the freedoms our students and citizens enjoy.
Additionally, Searcy High School would like to thank the following banks for sponsoring lunch for their guest speakers: Centennial Bank, First Security Bank, Riverwind Bank, and Southern Bank.