SHS Wrestling Team
Mitzie Cannon
Monday, February 11, 2019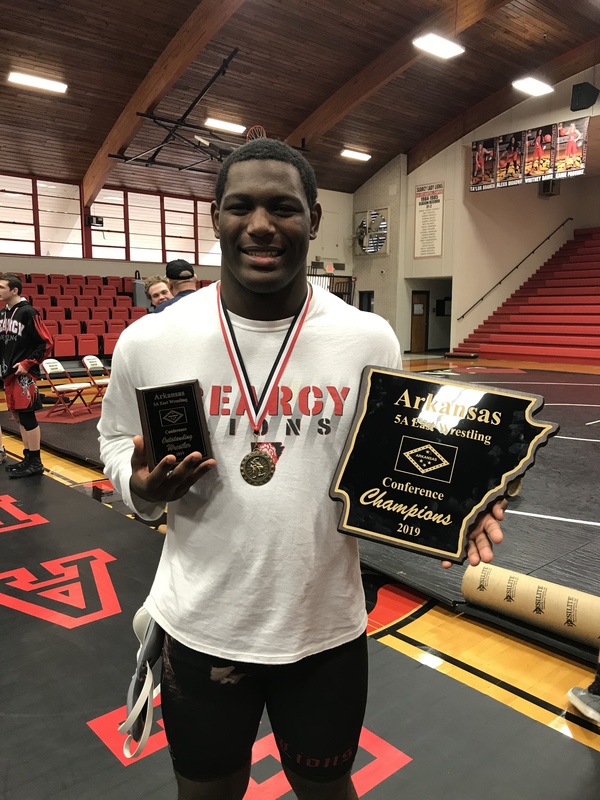 The wrestling team won the 5A East Conference Championship this past Saturday. All 14 wrestlers placed in the top 3, making them all-conference, and 8 of those were conference champions. Demaceo Whittier also won the Outstanding Wrestler award for the upper weight division. The following are the individual medalists for each weight class.
106-3rd Place - Garrett Meeds
113-1st Place - Matthew Gale
120-1st Place - Landon Valdez
126-2nd Place - Isaac Donais
132-1st Place - CJ Yocham
138-2nd Place - Aiden Fitzpatrick
145-2nd Place - Logan Money
152-1st Place - Brad Brown
160-2nd Place - Ryan Tillery
170-1st Place- Joseph Delk
182-1st Place - Eduardo Mancilla
195-1st Place - Nick Light
220-3rd Place - Brayden Zamperelli
285-1st Place - Demaceo Whittier
The team results were:
1st Place-Searcy-254.5 points
2nd Place-Little Rock Christian-113 points
3rd Place-Beebe-111 points
Thank you all for the support you have given us this season. State Championship tournament is next at the Jack Stephens Center on the campus of UALR on February 22nd and 23rd.