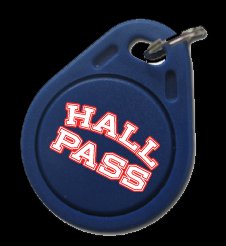 Beginning in September 2014, Searcy Public Schools began using the Hall Pass Visitor Management System. This system protects students and school staff members from the risks of unwanted visitors or child predators gaining access to district schools. ALL visitors must be buzzed into the building. via the security doors. Once inside, all visitors need to report directly to the office. Visitors will be asked to present a driver's license or picture ID. The ID is scanned, and if approved, a visitor tag is printed for the visitor to wear. The visitor tag must be returned to the office upon exiting the building.
FOR EVENTS: We will use an RSVP system sending out the link via our website and Facebook page to parents and visitors wishing to attend. If your picture ID has been scanned previously, we can have a name badge ready and waiting for you so that you can go right into the event. This will prevent there from being long lines of people waiting on visitor tags.
A key fob may be purchased for $1.00. Once the driver's license (or picture ID) is scanned, the information is stored on the key fob. Scanning the key fob eliminates the need to present the driver's license at each visit. If you have children at multiple campuses, only one key fob will be necessary. All children can be listed on the one key fob. The key fob can be purchased at the office. We appreciate your help in keeping our students safe!