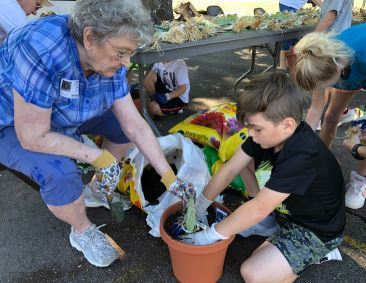 McRae Elementary Welcomes Community Partner White County Iris Society
Betsy Bailey
Tuesday, September 03, 2019
We have been so fortunate to have some beautiful days this week. Our students have enjoyed their time on the playgrounds. On Thursday, I looked out my office window and saw a bustle of activity at McRae Elementary School. I walked across the lawn and saw a number of children and adults planting. I asked STEM coordinator Kristi Smith what was happening, and she gave me all the information. Here is what Ms. Smith has to say about McRae's partnership with the White County Iris Society and how McRae students are keeping a love for irises alive!
The White County Iris Society partnered with McRae Elementary School again this year in hopes to instill a love of irises in the hearts of third-grade students. Each year, the WCIS provides a variety of irises so that each third-grader, their teachers, and school administration gets to plant one. This year, thanks to a Unity Health grant, we were able to purchase actual flower pots for the irises.
Students were first taught how to plant their irises, so that the roots are firmly buried in the potting mix. Next, they put on garden gloves and filled their pots with soil. Then, they chose which iris they wanted based on colored, laminated photos of the flowers on craft sticks. Finally, The idea behind this project is for students to care for their irises all year at school and watch the process of the irises growing until they bloom in the spring.
Members of the WCIS who were present for iris planting included Alice and Fred Jewel, Lavera Ritchie, Paul Love, and Jimmy Whiteman. Retired SPSD teacher, Christi Reeves also assisted for the entire morning. Numerous parents of third-graders popped in and out throughout the morning to assist with their child's class, and we appreciated support from the Searcy Police Department as well.
Following the planting, students in Mrs. Davidson's class wrote Thank You notes to members of the WCIS. The students love this project, and they anxiously care for their irises hoping that theirs bloom just in time for the annual White County Iris Society Iris Show that happens in the spring each year. Thank you to the WCIS and to everyone who makes this event happen each year. Mrs. Davidson said yesterday, "This is my favorite day of the school year."