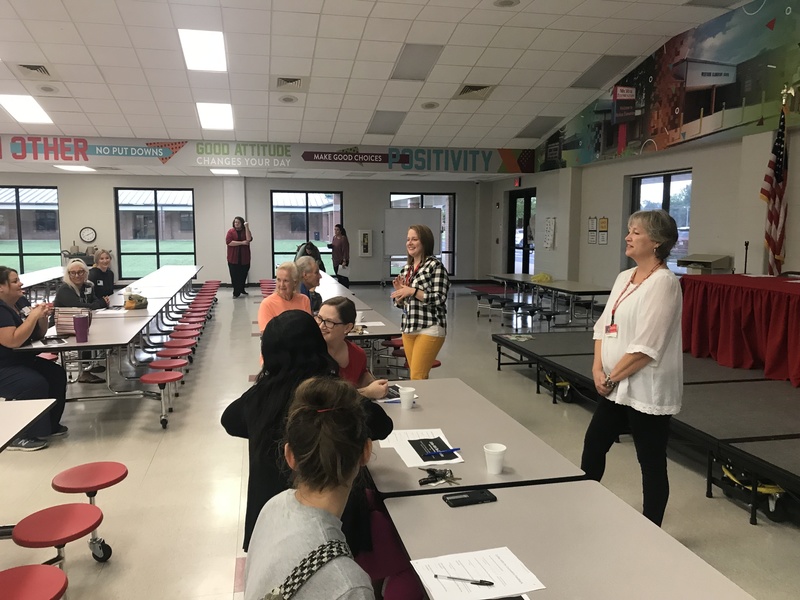 I read a quote the other day that said "A bad day with coffee is better than a good day without it." I tend to agree as I don't normally talk in the mornings before I've had my first sip of coffee, and that is hard to believe! That's why when I heard Southwest Middle School was holding its first ever "Coffee with the Counselors," I knew it was going to be a success!
"Coffee with the Counselors" hosted by Southwest Middle School counselors Addie Cummings and Renee Gentry is a family engagement event that will be held each nine weeks to focus on providing parents and family members with information and resources on all types of issues that students may deal with daily. The first of the four gatherings focused on how to help their children navigate peer conflict through bullying education, communication, and the "Capturing Kids Hearts" process. Through interactive activities among the group, the counselors demonstrated how our teachers, administrators, and staff members interact with students each day and the expectations for which they set for our students. Family members were also encouraged to provide feedback and ask questions to promote student success and well being.
The additional three coffee meetings will focus on topics such as emotional wellness, cyber safety, test-taking strategies and more.
Southwest Middle School administration and guidance counseling department were so pleased to welcome those who attended the first event, and they want to invite family members to be on the lookout through social media and printed materials for information on the upcoming "Coffee with the Counselors." Who doesn't love a fresh cup of a coffee and discussing our children?!  For more information, contact Addie Cummings or Renee Gentry at 501-268-3125.