October 1st will be school picture day for onsite students only. We will post the picture date for virtual students as soon as possible.

School pictures will be taken on October 1st.

McRae students had a great day celebrating International Dot Day!! Students were definitely seeing dots as our students wore a combined total of 1,500,000 dots!!!

Constitution Day is Thursday, September 17th. Students are encouraged to wear red, white and blue on Thursday as they learn about our Constitution!!

Mya and Elly are only two of the many students who got a free grab and go breakfast this morning. Our school received exciting news!!! Beginning today, ALL students enrolled in Searcy Public Schools (whether attending onsite or through Lions Online) will receive breakfast and lunch meals for FREE through December 31, 2020. According to the Division of Elementary and Secondary Education (DESE), this is due to a special United States Department of Agriculture (USDA) waiver. For any questions, please contact Charlotte Davis, District Child Nutrition Director at
cdavis@searcyschools.org
. #learningtogetherwhereverweare #searcyschools

School is dismissed next Monday, September 7th, for Labor Day. Enjoy this extra time with your family!

We have almost finished two weeks of the new school year!! Our students have shown great attitudes and great effort!!! Students and teachers have created and signed Social Contracts in their classrooms. Our students are doing a great job of following those contracts both inside and outside of the classroom!

Last week, your child's teacher sent out a message with a link through School Status. This link was to a form for an e-book library card from the White County Public Library. The Public Library is partnering with our school to provide our students access to e-books from the public library. If you have not filled out the form, please take a moment to complete it. It is very short. We will be requesting e-book library cards from the public library for only those students who were given parental permission through the form. Thank you!!!


We are seeing a lot of red today at McRae!! Kindergarten students are studying colors this week and next week. Today is red day! Kindergartners are encouraged to wear the color of the day to add to the fun. Below is a list of the colors that the kindergarten teachers sent home with their kindergarten students. Tuesday, Sept. 1 - Yellow, Wednesday, Sept. 2 - Blue, Thursday, Sept. 3-Green, Friday, Sept. 4- Orange Week 2 Tuesday, Sept. 8- Purple, Wednesday, Sept. 9 -Brown, Thursday, Sept. 10 - Black, Friday, Sept. 11 - White or Pink


Due to the possibility of strong winds and hazardous weather conditions, Searcy School District will dismiss at 2 P.M. today. No decision has been made about school closure for tomorrow. We will monitor weather conditions and keep our families apprised of any new information through our website, social media, and mass messaging system. Thank you.

Any Lions Online families who signed up their children for Searcy School District meal distribution may find the schedule here.

Our students and staff did a great job today during our first fire drill of the new school year!!!

Please put your child's name on jackets, sweaters, lunchboxes, etc.. We can return items that have names on them to their owners. We already have a few items without names in our Lost and Found cabinet. If your child is missing a jacket, or other item, please tell them to check in the Lost and Found.

It was a great day at McRae! Abraham Lincoln once said, "Whatever you are, be a good one." We definitely have a school full of students who are good ones!! Have a good evening!

School starts this Monday, August 24th!! Classrooms, both onsite and virtual, are getting the finishing touches to be ready for students Monday morning!! First bell is at 7:55 a.m. and tardy bell at 8:00 a.m. for onsite students. At Camp McRae, we are ready for a school year filled with adventure and learning!!!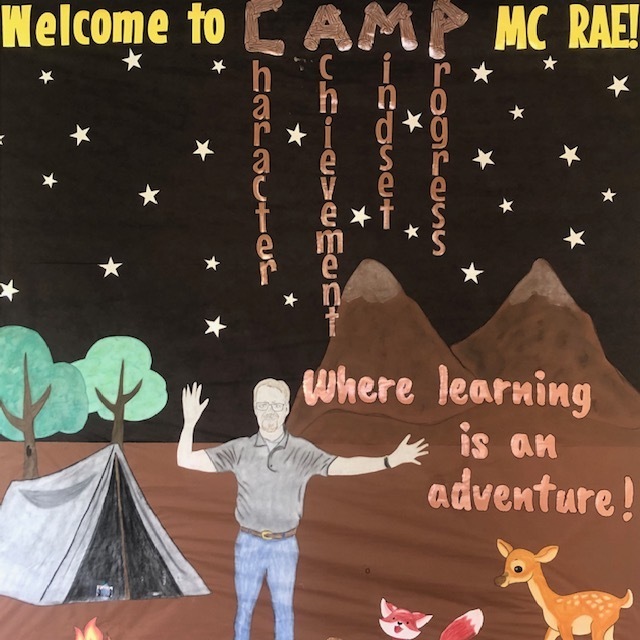 This message is for parents of Lions Online. If you have not already watched the Lions Online Parent/Student Orientation videos of the Lions Online Virtual Orientation and the Parent/Student Guide to Google Classroom found at the link below , please do so BEFORE Monday, August 24th. Thank you for assisting in making our students successful the 2020-2021 school year!
https://www.searcyschools.org/o/lions-online/article/284759


Remember - School supplies may be dropped off tomorrow in front of the cafeteria from 9 am - 3 pm, and from 5 pm -7 pm. Please remember to label with your child's name and their teacher's name. Enter our parking lot from Moore Street. Please stay in your car. We will come out to collect supplies and to give you an information packet from your child's teacher. Thank you!!