REMINDER: Next week, students have a choice of whether to attend school on-site or do their work from home remotely. Searcy Public Schools will be closed Wed-Friday. We hope all of our staff and students have a Happy Thanksgiving!!
Due to an increasing number of positive Covid-19 cases among students and staff and the high number of those needing to quarantine, but most importantly out of concern for the health and safety of all, Searcy School District elementary schools (McRae, Sidney Deener, and Westside) will be offering Flex days on Friday, November 20th, Monday, November 23rd, and Tuesday, November 24th. Students have the option to learn remotely from home or onsite. Bus schedules will run as normal. Due to the Thanksgiving holiday, school will not be in session Wednesday, November 25-Friday, November 27. Onsite learners will return to campus on Monday, November 30.We will provide our families with more information on meal distribution in a follow-up message. Please remember during the Thanksgiving holiday to practice social distancing measures and follow Covid-19 safety protocols.
A big THANK YOU to all who donated the last few weeks to our Canned Food Drive. Westside donated a total of 1,194 cans. First Grade was the winning grade level with 565 cans!!
Parents: Many students are taking Chromebooks home for Flex Friday but are returning Monday without their Chromebook or returning with a Chromebook that hasn't been charged. Please make sure that if your child brings a school device home that they are recharging it on Sunday and packing it back in their backpack for school. Thank you!!
Parents: This is a unique year, but we are committed to producing a yearbook that will capture the memories of this incredibly memorable year in your student's life! If you haven't purchased a yearbook yet, HURRY and do so by going to
http://jostensyearbooks.com?ref=A09896491
. We cannot guarantee that we will have any extras for sale at distribution, so ORDER TODAY! And remember that if your order is $30 or more, you can use a payment plan and spread your purchase over 3 months with no interest or fees!!
We are all looking forward to Thanksgiving Break and spending time with our families!!
It's Red Ribbon Week and today was Camo Day!! Check out our Facebook page for more pics!
Some parents have asked how they can stay up-to-date on school events and information pertaining to their child. Parents can access our website at
https://www.searcyschools.org/o/westside-elementary
, follow us on Facebook and set up notifications, make sure the child's teacher has the correct phone number to send School Status texts (and don't opt out), AND parents can download our district app to a mobile phone. Search "Searcy Public Schools" in the AppStore or Google Play. In settings, you can turn notifications ON and choose which building(s) you want to receive notifications from. So if your have kids in multiple buildings, you are covered!
Yay! The sun is back out again today...which means outside recess, fresh air, and a great start to the weekend!!
Our Lost 'n Found is already filling up and we have kids trying to track down their belongings!!
While we appreciate technology and are learning in Google Classroom every day, we still LOVE our hands-on math and paperwork!! Ms. Amy Williams' class were using manipulatives to learn ones and tens place yesterday! 💙➕🔟🧮🏫🍎✏️ See Facebook for more pics!
Westside students are thoroughly enjoying recesses with cooler weather and lots of sun after all those rainy day, inside recesses we had in September. Our school year may feel different but we are working hard....and playing hard, too!! See our Facebook page for more pics!!
Friday was International Dot Day! See our Facebook album for more pics!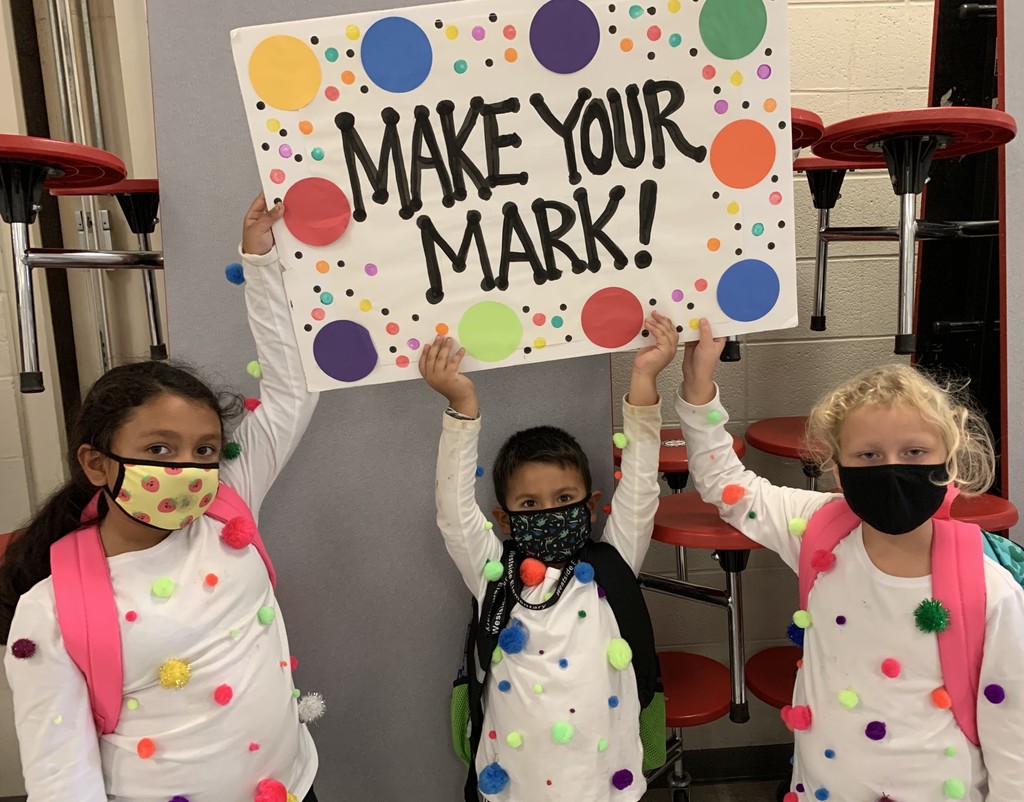 REMINDER: A law prohibiting use of cell phones in school zones took effect Oct. 1, 2011. State law prohibits all motorists from using a mobile phone while in a school zone or passing a school building when children are present. Act 288, passed in March 2019, makes the use of a handheld, wireless telephone in a school zone a primary offense with a $250 fine (first offense). For more information please visit
http://handsfreeinfo.com/arkansas-cell-phone-laws-legislation/
Parents~ Students will bring backpacks and water bottles to school each Monday and they will stay at school until Friday. On Friday, any and all papers will be sent home in the backpack and water bottle will be sent home to be cleaned. Lunchboxes, however, will come home each day. We had some children misunderstanding that today and thought they could not bring their lunchbox home. We apologize to any parent that had to swing back by to pick up a lunchbox.
PARENTS: Accidents and spills happen at school (more often than you think!). Getting clothes dirty or torn at recess has been known to happen on occasion as well. We are asking ALL parents to please send a change of clothes with your students to be kept at school. Our nurse's clothes cabinet is not large enough to house all sizes for all seasons... and most kiddos would prefer to change into their own clothing. We are requesting just a pair of shorts, a shirt, underwear, and clean socks be sent in a ziploc bag with the child's name on it. We appreciate your help....and we know your child will truly appreciate having them here if they are ever needed. Thank you!!
PARENTS: As you prepare your child's school supplies, please be sure to put your child's name inside their backpacks, lunchboxes, jackets, etc. We have a lost and found and it fills up rather quickly, but we can get the item back to its owner if we know who it belongs to!