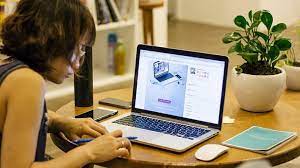 Image
Lions Online Virtual Learning
Searcy School District is amending the virtual option plan to include all students in grades K-12 subject to state and local board approval. The following is a description of the Searcy School District virtual option, Lions Online. If you would like for your child to participate in the Lions Online virtual learning option, please indicate his/her registration by completing the form here.
Searcy School District Virtual Option Registration
Currently, Searcy School District will be providing virtual teachers and content through a partnership with Pearson for virtual students in grades K-12. All teachers are employed and managed by Pearson. A district point of contact will be designated to work with Pearson to ensure school policies, procedures, and expectations are being met with the virtual students. Pearson is a dual learning virtual experience with both synchronous and asynchronous instruction through Pearson Connexus for students in grades K-12. This model allows for flexibility with learning, student-teacher relationships, and targeted learning for all students. LiveLessons for core instruction occur at least once weekly. LiveLessons are recorded so students can revisit for refresher or if the student missed the LiveLesson. LiveLessons are highly suggested. Additionally, students have a variety of other options for connecting synchronously with our teachers (email, office hours, etc.). Students can contact assigned teachers in Pearson Connexus using Webmail. Students also have their teachers' phone numbers. Turnaround time for responses from Teachers and Advisor Teachers is one business day per Pearson regulations, but generally occurs within a shorter timeframe. All teachers have three hours of weekly office time for support. Teachers request students to attend LiveLessons, pull small groups, and/or work 1:1. These requests are based on student needs identified by robust grading practices.
In addition to a district point of contact, the district will utilize virtual learning facilitators that will monitor student engagement along with their academic progress for the students from that respective campus. The virtual learning facilitator will work with students to ensure their success with Pearson Connexus curriculum via Google Meets, email and phone calls when necessary to ensure success in the virtual classroom. When special services, interventions, etc. need to be provided by a district staff member/certified teacher, those employees will utilize our Schoology LMS and/or Google Meet to meet the educational needs of our virtual students. District staff members providing instruction support services to ESL, GT, dyslexia services and Special Education students will have a designated time to service those students to best meet their needs. There will be instances where Searcy students in grades 9-12 may enroll in courses offered by Virtual Arkansas if the course is not offered through Pearson Connexus. 9-12 Virtual Arkansas is a "high touch" virtual learning experience that harnesses the benefit of synchronous or "live" instruction married with aligned asynchronous courses. This allows for students and instructors to develop relationships, address needed "just-in-time" instruction, and flexibility with learning. At the high school level, students are provided the opportunity to attend two Zoom sessions per week, per content area, and request additional one to one Zoom sessions as needed. Students must attend at least one (1) Zoom - Live Session a week per course.
Attendance for all Zoom sessions is highly encouraged as empirical data has shown students who attend Zoom sessions are shown to be more successful than students who do not attend Zoom. Students/teachers are also able to communicate 24/7 via the CANVAS LMS messaging or the SIS email system that is monitored by Virtual Arkansas LMS messaging or the SIS email system that is monitored by Virtual Arkansas. Teachers are expected to reply to students within 24 hours of a student communication during the school week. Students are expected to read and interact with messages in their courses on a daily basis during the school week.
All virtual students will be invited to participate in all field trips, academic competitions, and other special enrichment functions that occur in the brick and mortar. Some virtual students will come on site to participate in select classes that are not offered via Pearson Connexus platform--for example, AAA competitive activity classes such as, but not limited to, art, choir, band, baseball, basketball, and soccer.
Students will be required to come on site for, but not limited to, state testing, health screenings, and some types of instructional support and intervention if necessary.
Special Services & Interventions
Dyslexia - Searcy School District will provide Initial, level I, and level II dyslexia screening to students in grades K-12 at the suggestion of the virtual teacher, interventionist, parent/guardian and/or school district. Screeners will be conducted synchronously at a scheduled time with a classroom teacher or dyslexia interventionist. Dyslexia interventions will also be conducted synchronously following the recommendations of the dyslexia curriculum.
Gifted & Talented - 150 minutes each week. Gifted and Talented services will be conducted synchronously at a scheduled time through Google Meet and utilization of the Schoology LMS platform for all learning activities with a district GT teacher.
ESOL/ELL - students will be serviced by certified intervention specialists and/or teachers trained in English Language Development. District interventionists will prepare lessons using the EL Achieve curriculum. Lessons will be shared through a Schoology and Google Meets. Instructional sessions will be synchronous and asynchronous. Lessons will be delivered daily for at least 30 minutes.
Special Education Services - Special Education services and supports will be determined by the student's IEP committee The district will maintain all determined by the student's IEP committee. The district will maintain all records for special education virtual students. The district provides all special education supports and services, such as meeting IEP goals, special education conferences, etc. This committee will determine the method of delivery of services.
Accommodations for virtual students will be provided through the Pearson Connexus LMS. Students will be scheduled on-site for special education evaluations
Searcy School District will use Arkansas certified teachers as instructors for all course content from the Pearson Connexus LMS. Pearson will provide certified teachers of record for virtual learners. Delivery of instruction will be 100% virtual. Pearson teachers will be dedicated to remote instruction only. All virtual teachers will be employed and managed by Pearson. This model is synchronous targeted instruction partnered with asynchronous course content and enrichment. Searcy Schools will employ a district point of contact for Pearson and virtual learning facilitators to monitor student engagement in the learning process, as well as their academic progress. These employees will be certified teachers that have a designated time in their work schedule to devote to virtual learners. Virtual learning facilitators will not be monitoring virtual students and on-site students at the same time. Searcy School employees will work on-site.
District staff members providing instructional support services to ESL/EL, GT, dyslexia services and Special Education students will have a designated time to service those students to best meet their needs. Those district staff members providing special services will be ensured their planning time and class load requirements are still met. For those select students participating in courses with Virtual Arkansas, Virtual Arkansas will provide a fully certified Arkansas teacher of record while the district provides the facilitator. Virtual Arkansas provides training and support for facilitators via the Facilitator Coordinator. This model includes synchronous targeted instruction partnered with asynchronous course content and activities.
Searcy School District's virtual students will be required to attend a minimum of one LiveLesson session per week per course. It is highly encouraged that students attend all LiveLesson sessions each week. Research shows that students who attend LiveLesson sessions are more successful than students who do not attend LiveLesson sessions. LiveLesson sessions provide for real time direct instruction with individual and small groups of students using voiceover IP, chat, electronic whiteboard, and shared web surfing. These sessions allow teachers and students to interact with one another in real-time in a virtual classroom. In addition, all live instruction sessions are recorded and saved for students to revisit at a later date if they have scheduling conflicts or want to refresh themselves on the topics covered. Teachers and students will be able to communicate using the Pearson Connexus Learning Management System or via email. Additionally, virtual teachers are expected to communicate with parents and students.
Pearson teachers are expected to monitor students and provide timely grading and robust feedback on assignments for students, parents/guardians, and District Point of Contact to monitor.
● Pearson Teacher grading of assessments: 2 business days
● Pearson Teacher grading of portfolio items: 5 business days
● Teachers send Welcome WebMail messages within 2-5 business days after the course start date.
Standard communication between virtual teachers and students will be through webmail. All student and teacher communication is captured and logged. Virtual teachers will also make phone calls and share their phone numbers with students. Students can request meeting times through the You Can Book Me website, pop in LiveLessons, or meet during teacher's set office hours. Virtual teachers will also pull small groups or work 1:1 with students based on needs. Programs enrolling full-time students in grades 6–12 with Pearson teachers will receive an advisor through Pearson in addition to subject-specific teachers.
Advisors are not state-certified teachers but collaborate with teachers, students, and caretakers to ensure student success. The Advisor's role is to:
● Increase student success in courses through an emphasis on quality communications, effective use of data, and accurate documentation of e􀁷orts.
● Improve the student and family's overall online education experience and success through collaboration and coordination with Program Managers and content area teachers.
Advisor responsibilities include:
● Monitoring student participation and performance;
● Helping students navigate the Connexus platform and other Pearson technology; and
● Facilitating communication between the student and the subject matter teacher(s) as needed.
Full-time students in grades 4-5 are not assigned a Pearson Advisor, but work closely with their assigned core subject virtual teacher to ensure success and are monitored by their building's virtual learning facilitator.
Searcy's District Point of Contact for Pearson will communicate with Pearson at least every other week unless the need arises for more frequent contact to address any specific needs. For students utilizing Virtual Arkansas courses, teachers actively monitor their courses, provide synchronous sessions and maintain regular communication via the LMS and SIS messaging systems. Each week teachers send a grade report to the student and parent/guardian, and initiate further contact with students demonstrating di􀁷iculties with course content. Students are highly encouraged but not required to attend all Zoom sessions. Teachers are continuously provided PD and support for providing engaging and relevant synchronous instruction.
Virtual students in grades K-12 will be required to attend all Tier I, II, III small group/1:1 instructional sessions suggested by virtual teacher or school district.
Students who need them will be provided school issued Chromebooks. For the digital platform to be effective, sufficient and consistent broadband internet is needed. To the extent possible, the district will work with families to resolve connectivity issues.
Students who enroll in Lions Online should be self-motivated, computer literate, committed, and independent learners. They must be effective communicators and have good time management skills. Even though it is expected that students complete the work themselves, it is essential that students who participate in a full time online program have strong parental support and monitoring of student work and progress.