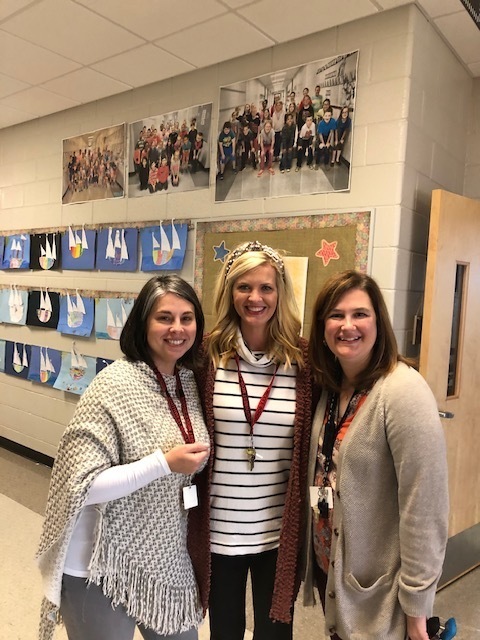 Searcy High School counselor Katie Sipes and Southwest Middle School fourth grade teachers Tia Cook, Lauren Landers, and Donna Strachan sport a "Mr. Rogers" t-shirt and cardigans and on World Kindness Day.
Mr. Fred Rogers once said "Mutual caring relationships require kindness and patience, tolerance, optimism, joy in the other's achievements, confidence in oneself, and the ability to give without undue thought of gain." Searcy School District takes these words to heart as our teachers, administrators, and support staff wants the very best for each one of our students.
Last Wednesday, the district wanted to recognize World Kindness Day. Many across the nation wore cardigan sweaters in honor of Mr. Rogers and his unyielding kindness for children and adults alike. Searcy Schools employees joined in the fun with cardigans and activities that demonstrate kindness. Sidney Deener Elementary School enjoyed Kindness Day with their Dads. They held their annual Donuts for Dads during the week. Southwest Middle School is holding its annual canned food drive in partnership with the Junior Auxiliary of Searcy to provide for families in need during the holiday season. And, McRae Elementary School students delivered "Throw Kindness Like Confetti" banners, goodies, and other creative items to Searcy School District administration, transportation, and maintenance offices, Providence Assisted Living, Searcy Fire Department, Searcy Police Department, White County Sheriff's Office, Northstar EMS, and the Army National Guard.
Through our social/emotional learning curriculums, we often encourage our students to show kindness to others in different ways. Sometimes, just one smile or encouraging word can change a person's whole attitude, and just remember Mr. Rogers's advice, "Imagine what our real neighborhoods would be life if each of us offered, as a matter of course, just one kind word to another person."