SHS 10th graders Cameran Crabill, Maggie Pruitt, and Grayson Griggs are showing their school spirit in their bobby socks on Decades Day at Searcy High! #searcyschools #comealive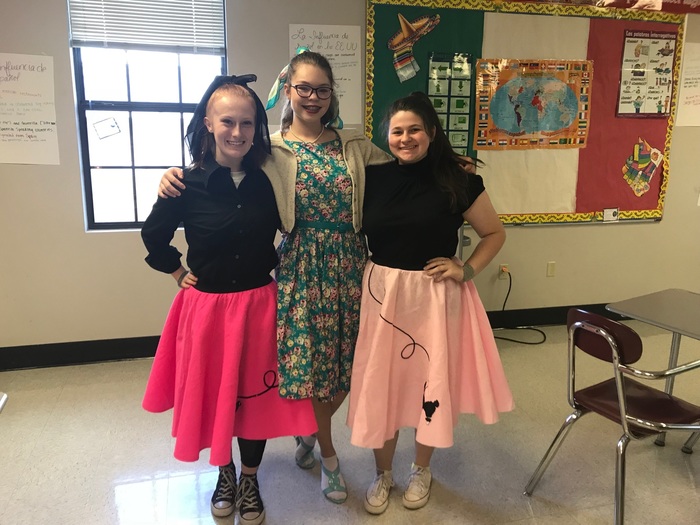 AJHS students Ashlyn Bottoms & Taffi Adams along with Amy Bottoms are volunteering their time at Get Downtown. So happy we have students who are community minded and assist in our great hometown!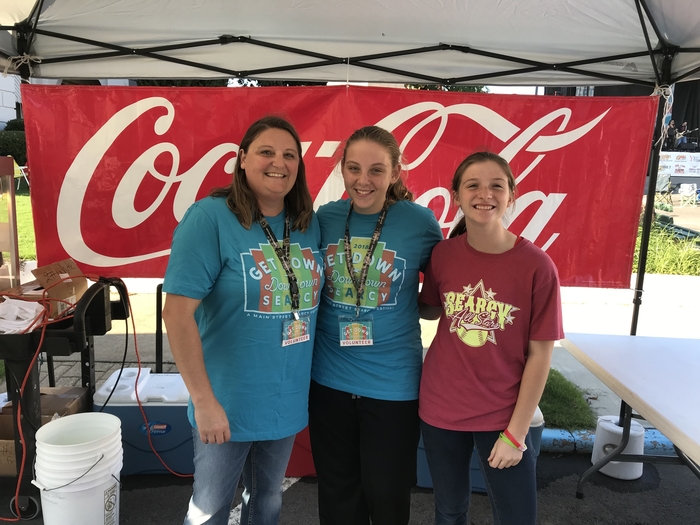 SHS Choir will be performing at Get Down Downtown in the pavilion at Spring Park at 11:00 on Saturday. Bring your families to hear some fun tunes by Earth, Wind, & Fire, The Greatest Showman, and Imagine Dragons!
Good luck to SHS Lady Lions Mallory Cunningham and Mary Julia Killough as they prepare to play in the state golf tournament in Hot Springs today!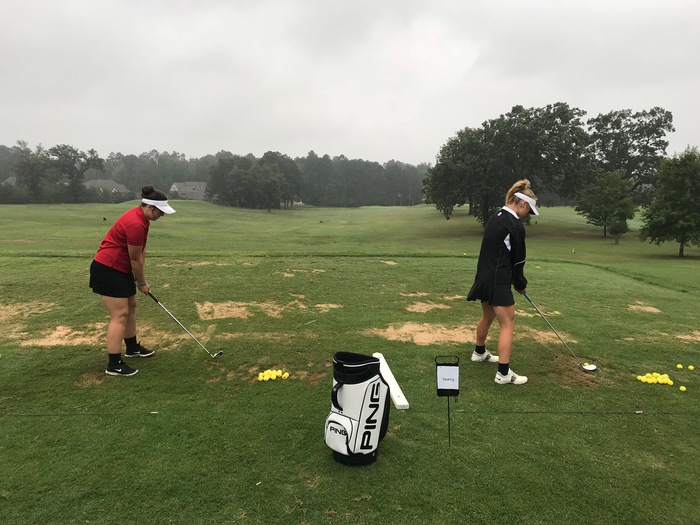 Athletic Update: Today's SHS volleyball match originally scheduled for 4 P.M. in Searcy has been moved to 5 P.M.
Searcy School District transportation will be running two flood routes tomorrow, Sept. 25. Buses 30 & 43 will be running flood routes. Thank you.
Athletic Update: Today's tennis match with Marion has been postponed due to rain. It is tentatively rescheduled for Thursday at 4:00 p.m. in Searcy.
SHS Mom's Squad will be selling phone grips at the merchandise table prior to the home football games. This is a fundraiser for the Mom's Squad, and phone grips may be purchased for $10.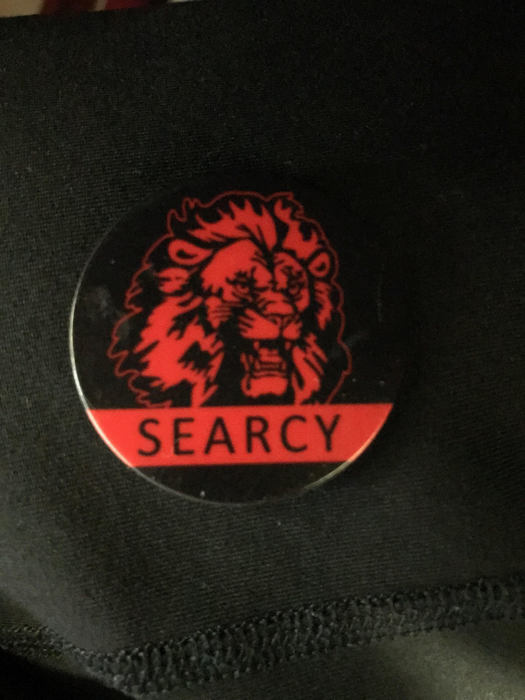 SHS Spanish Club is selling cookie dough as its annual fundraiser. Order cookie dough online for the upcoming holidays or just a daily snack and assist the Spanish Club in its projects! Click here to order and have it delivered to SHS.
http://bit.ly/searcyhsspanish
SHS Wrestling team will be holding its annual fundraiser on Saturday, September 22 at the Beebe-Capps Sonic from 8:30 A.M.-5:00 P.M. Stop by to get a meal or a sweet treat and tip the carhops to raise money for the wrestling season!
This is a reminder that all students in pre-K through 6th grade must be accompanied by an adult to school athletic events. All other students must be picked up PROMPTLY following the ballgame. This is for our students' safety. Thank you.
Mr. Lincoln Dias from Westside Elementary School is getting ready to rock Dot Day! International Dot Day will be celebrated tomorrow at Deener, McRae, and Westside! #makeyourmark #searcyschools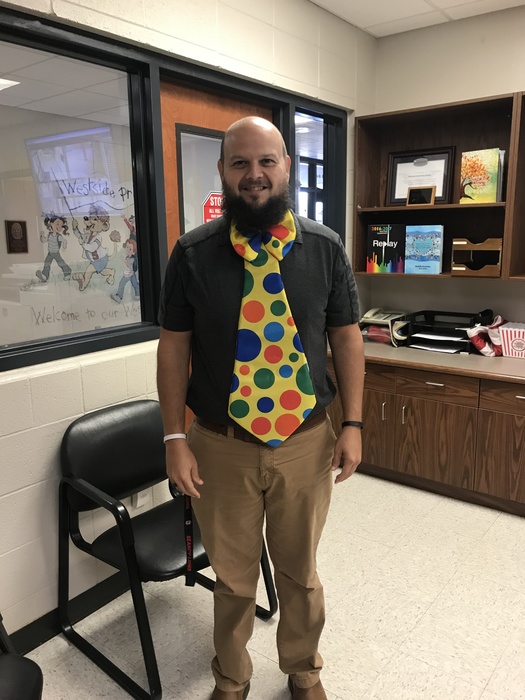 Progress reports will come home today.
Today's SHS tennis match against West Memphis/Marion has been postponed. We will provide information on rescheduling when it becomes available.
School will not be in session Monday, September 3 in recognition of Labor Day. Enjoy the long weekend.
We are so appreciative of the Beats & Eats committee, United Way, and Junior Auxiliary for donating school supplies following the Stuff the Bus event! Thank you for supporting the needs of our students!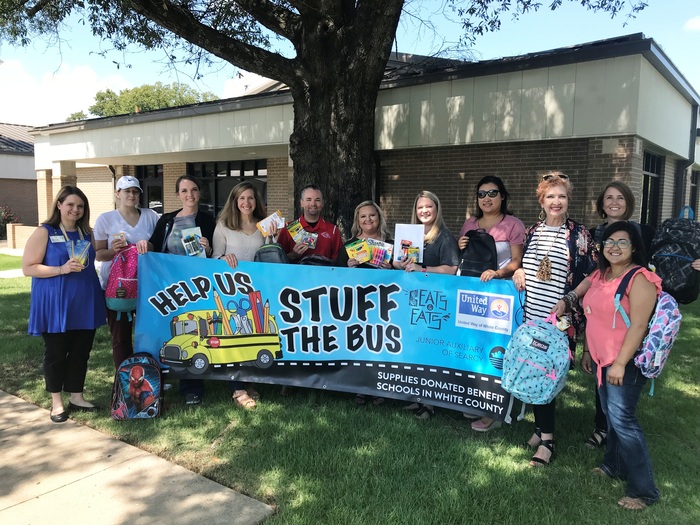 Congratulations to Tammy Bishop and Dr. Sheena Williamson!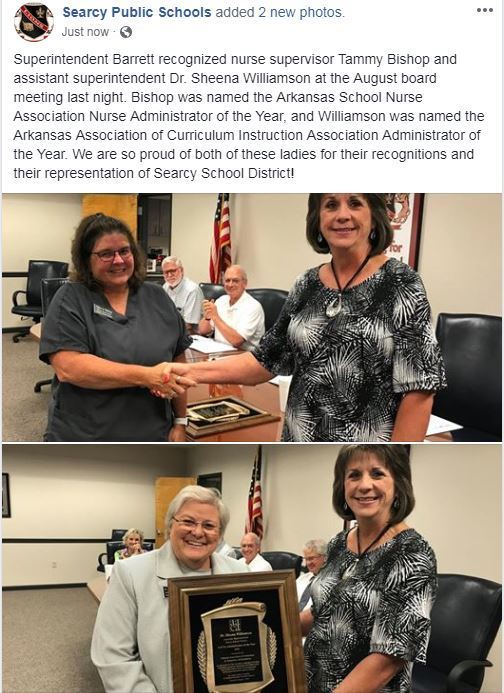 Thank you to the United Way and Beats and Eats for this amazing outreach!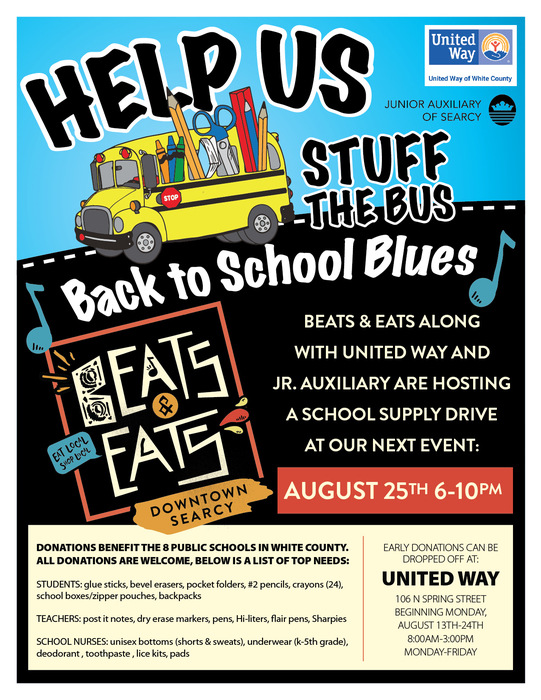 The 2018 Annual Report to the Public is being held as part of tomorrow's scheduled school board meeting. Anyone is invited to attend to hear about the state of Searcy School District and newly implemented programs. Meeting begins at 5:15 P.M. at the administration office.
Tonight, the SHS Lions will take on the Wynne Yellowjackets in a benefit game at Lion Stadium. No faculty/staff or booster passes will be accepted. Only AAA passes are accepted as this game benefits the Arkansas Activities Association. Gate fee is $4.00 for this game. Kickoff is at 5:30 P.M. Go Lions!