Bus #43 will be running approximately 15 minutes behind its regular schedule on today's afternoon route. For questions, please contact the SSD transportation office at 268-6954. Thank you.

Electricity has been restored at McRae Elementary and Searcy High School and phones are now working. Thank you.

Due to a power outage in the area, Searcy High School and McRae Elementary School are without phone service and electricity at this time. We will keep you updated as more information becomes available regarding service reconnection and will ensure the comfort of our students during this time. Thank you.

Friends, this is the last week to vote for Sidney Deener as Best Elementary School in Central Arkansas and SWMS as Best Middle School in Central Arkansas. Vote every day through September 8th at the following.
https://www.arkansasonline.com/bestof2019/


Searcy Lions take on the Morrilton Devil Dogs at 7 P.M. at Lion Stadium tonight! Please remember that no outside food or drink may be brought into the stadium. See you tonight and GO LIONS!!!!!!


Have you voted for Sidney Deener as the Best of the Best Elementary School and SWMS as the Best of the Best Middle School in Central Arkansas? Do it here and continue to vote each day!
https://www.arkansasonline.com/bestof2019/#//

Don't miss the Red/White Volleyball Scrimmage games tonight at SHS beginning at 4:30 P.M. Only $1 admission!

Westside Elementary's electricity and phone lines are now working. Thank you!

Westside Elementary School has lost electricity due to construction in the area. Phone lines are not working at this time. We have received information that the power will be out for approximately 2 hours, but at this time our students are going about their daily routine and are comfortable. If we receive further information that the time will be longer, we will monitor and adjust as needed. Thank you, and we will provide you with updated information regarding this situation as it arises.

Parents- Don't miss out on Collin Kartchner's speaking engagement on the effects of social media on children. Sponsored by the Jesse Dylan James Foundation, it is being held tomorrow night at the Searcy High School PAC beginning at 6:30 P.M.

Crain Media general manager Chuck Redden presents $500 checks to the Searcy Lionbackers and Searcy Band Boosters in appreciation to the Searcy School District for its agreement with Crain Media to broadcast Searcy Lion athletics on KWCK 99.9.

Support your Searcy Volleyball program!

Support the Lionbackers this Friday at Lionfest! Food and fun for adults and children. Recognition of all SHS sports teams, band, cheerleaders, and Lionsteppers will be held throughout the evening as well as music and dance performances!

Welcome back to school for the 2019-2020 school year! #cantstopthebeat #searcyschools

New SPSD employees are learning to capture their students' hearts at a Capturing Kids Hearts training this week.

Parents-Mark your calendars for Thursday, August 22 for a parent meeting sponsored by the Jesse Dylan James Foundation.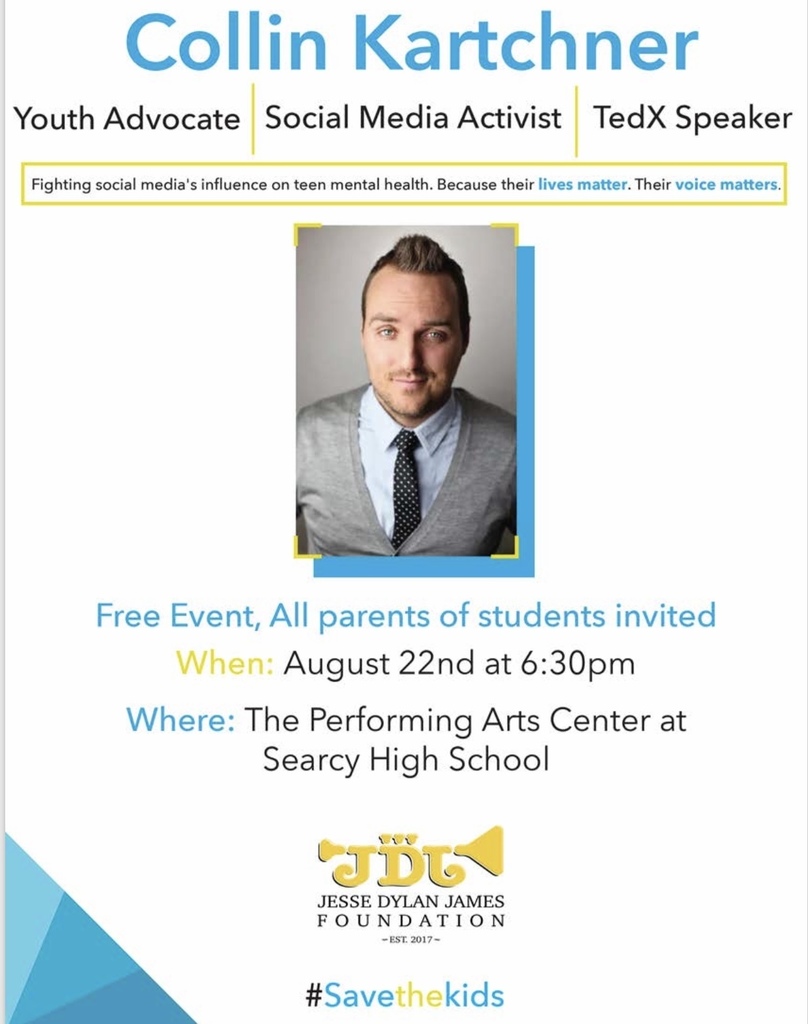 Searcy Schools Transportation Dept. is so happy to be participating in the UW and JA STUFF THE BUS event today! Thanks Mr. Rieck and Mrs. Patti!!

SPSD special education dept. paraprofessionals participate in a team building activity at their training this week. We are so thankful for these paras and what they do for our students!